A Mother's Story: With safe sleep, small items can create big problems.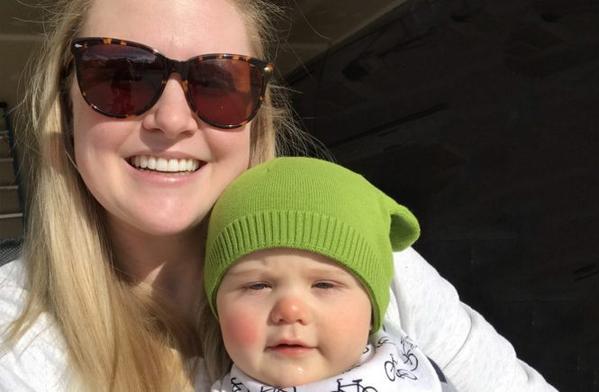 Sara was not new to parenting. As a mother to three older children, she felt totally confident when her youngest child, Benjamin, was born. Benjamin was healthy in every sense of the word. He was developing properly, feeding regularly, pleasant and a great sleeper. Sara felt no need to worry; little Benjamin was perfect. Every night when Sara and her husband put him to bed, they'd kiss his cheek, hand him his little Lovey (a small blanket with a stuffed toy sewn onto corner) and shut the door.
Sound familiar? Every night similar nighttime routines are practiced by parents around the world. However, on December 14, 2016, an ordinary night almost turned into a nightmare for Sara and her husband.
The Lovey blanket used by Benjamin while he slept.
"Last night about 30 minutes after putting Benjamin (4 months) to bed, we were on the couch relaxing and all was quiet on the baby monitor so I figured he was down for the night. I heard his little Owlet Monitor he wears on his foot start alarming on my phone showing "low oxygen" so I ran back to him figuring it must be a false alarm. I walked in to find his little lovey blanket on top of his face. 
Joel tried keeping him awake while I called 9-1-1. They were able to come and help him get breathing again with a few compressions. An ambulance took him to the ER and they got him stable and he was able to come home after a few hours. But the doctors and nurses all agreed that the Owlet alarm helped because I wouldn't have checked on him otherwise. That stupid little lovey is so small and lightweight and he usually puts himself to sleep by rubbing his cheek on it. I thought it would be ok to leave on the side of his bed and I definitely didn't ever think he would be suffocated by it. Really mad at myself for that. So don't make my mistake! Nothing in their cots, not even tiny little lovey toys!"
Paramedics who rushed Benjamin to the ER for further treatment.
When it comes to safe sleep, even small items can create big problems. Thankfully Benjamin's parents arrived in a timely manner to act. Benjamin is now approaching his first birthday, healthy and happy and the memory of this night serves as a reminder to parents everywhere to keep items out of the cot during sleep.
In January, we shared the top five correlating factors that families who experienced red notifications shared with us, in an effort to promote safe sleep conditions and shed light on common factors that coincided with the Owlet notifying for oxygen levels below the preset range.
Airway obstruction was one of these five correlating factors, with 11 percent of families who reported experiencing a low oxygen notification discovered their baby had restricted breathing.*
September is Baby Safety Month and in an effort to reduce the risk sleep-related injuries of infants, the American Academy of Pediatrics (AAP) has established safe sleep guidelines that parents should follow to keep their baby safe when sleeping. These guidelines, designed for the first year of life, include:
Following the ABCs of safe sleep: Placing baby Alone, on his/her Back, in his/her Cot (or other safe sleeping place).
In following this advice, do not place any soft bedding including loose blankets or pillows, stuffed animals, or other soft objects in your baby's sleeping area. This also includes cot bumper pads.
Your baby should sleep on a firm mattress that does not conform to his/her head shape, and should not be placed to sleep on a regular bed, couch, or another soft surface that could contour to his/her body and create a risk of accidental suffocation. AAP recommends using a firm mattress with a tightly fitted sheet only.
Consider room-sharing with your baby, but not bed-sharing. The AAP recommends doing this for at least the first six months and optimally, for the first year of life.
Keep your baby at a comfortable temperature to avoid overheating. Dress him/her in appropriate clothing that does not cover the face or head. Consider using a safe wearable blanket, like a sleep sack.
Using the Owlet Baby Monitor isn't a reason to ignore safe sleeping guidelines. The Owlet Monitor is not intended to diagnose, treat, mitigate, cure, or prevent any disease or condition. The Owlet Baby Monitor is only intended to assist you in tracking your baby's well-being and is not intended to replace you as a caregiver. You are ultimately responsible for your baby but we believe using the Owlet while practicing safe sleep and other healthy parenting practices can help.
Do you know someone who could benefit from knowing this information? Please pass it along and follow our blog for more safe sleep tips.
*We cannot say definitively the cause of the low oxygen levels but we can report the facts that were given to us when these different families shared their experiences.
Benjamin - 12 months old